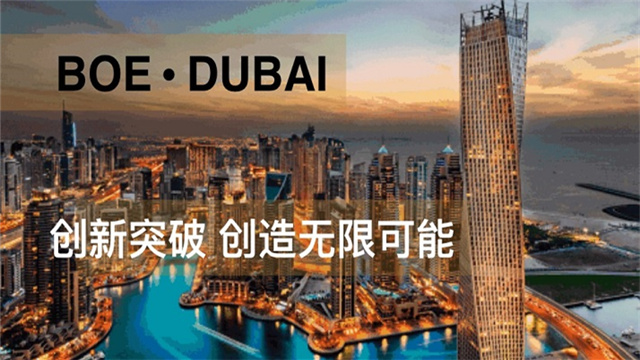 On September 27, BOE Technology Group Co., Ltd., a supplier of Internet-of-Things technologies, products and services, officially settled down its Middle East subsidiary in Dubai. This is another important move taken by BOE in its expansion of the overseas market after its Russian subsidiary was officially put into operation in June this year.
In recent years, Chinese enterprises have sped up their pace of internationalization, actively made their layout in emerging markets, and increased the influence of their proprietary brands. As an important hub along the "Belt and Road," the Middle East has an extremely important strategic position. Dubai, an economic and financial center, is a transit trade center linking the Middle East, Africa and even South Asia, and therefore becomes one of the most important overseas bases for manufacturers. The purpose of BOE's setup of a subsidiary in the Middle East is to bring its most advanced, premium and cutting-edge technologies and products to the Middle East market, so as to better serve the customers and consumers in the region.
At the roadshow held in Dubai, BOE presented its latest TFT-LCD and AMOLED display technologies, as well as its innovative products and integrated solutions in the field of smart systems. Specifically, the 65-inch 8K UHD display employs BOE's two major proprietary technologies, namely the ADSDS super-hard panel technology and the BV3 technology, which could achieve wide-viewing angle and ultralow power consumption while ensuring an 8K high-definition image quality. Its global-leading 5.5-inch full display, as well as QHD flexible AMOLED display that can achieve a S-shaped fold, have overturned the design schemes for traditional smart terminals. As the world's first digital art gallery, BOE iGallery, with its extraordinary image quality and strong interactive function, shows the charm of technology-art combination in the IoT era. In addition, BOE also presented a series of IoT innovative application products, such as VR, vehicle-mounted display, transparent display, mirror display and advisement player, showcasing its powerful strength in such fields as smart manufacturing and commercial display.
In the first half of 2017, BOE filed more than 4,000 new patent applications, with its total available patents exceeded 55,000, ranking among the top of the industry. BOE's global market share of TFT-LCD panels for mobile phone, tablet and notebook ranks No.1, panels for monitor and TV ranks No.2. It is an important supplier for many famous electronics brands in the world.
With respect to its global industrial layout, BOE has further enhanced its international presence, and set up subsidiaries in such countries as the U.S., Germany, Japan, South Korea, Russia, Singapore, India, and Brazil, with its service system covering major regions of the world including Europe, America and Asia. BOE's setup of its subsidiary in the Middle East will not only enhance the brand influence of China, but also boost the economic and industrial development of the Middle East, and the region's coordination with China in jointly building the "Belt and Road."