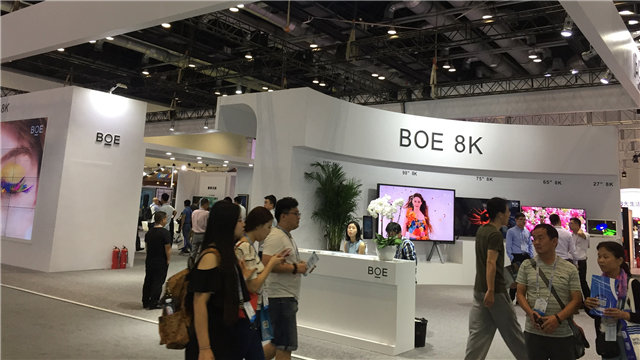 The 2017 International Winter Sports (Beijing) Expo kicked off at China National Convention Center on September 7. In a carefully orchestrated "snow world", BOE exhibit it's full line of 8K UHD display products, transparent display, and double-side display, and expressed their brand-new "views" of this most influential winter sports event in the world.
Are Televisions of ordinary sizes unable to "accommodate" the grand scenes of sports events? Made up of 16 55-inch screens, BOE's 220-inch 8K UHD display product covers all wonderful images without a miss. Do not want to miss a single exciting moment of the athletes racing against time? BOE's full line of 8K UHD displays, which range from 27 inches to 110 inches, make it possible for audience to see the rapidly sliding ice hockey balls, snow fog scooped up by ski boards, and athletes' tense facial expressions as clear as those in the daylight, and the audio-visual experience even powerful than watching them on the spot! Also available at the expo were the 46-inch transparent display screen used for sports equipment demonstration and interactive applications, the 28-inch and 37-inch line screens that demonstrate the fixture list and medal tally, and the 65-inch double-side display screen that may demonstrate both the rebroadcast sports events and the event publicity posters, without missing any wonderful moments.
The reporter noticed on the scene that BOE launched a full line of 8K UHD display products, including the 27-inch, 65-inch, 75-inch, 98-inch and 110-inch products, which can not only be applied to the professional market, but also cut a figure in the consumption market, allowing BOE to be leading in the 8K display market and achieve new breakthroughs.
Technically, BOE's 8K UHD panels feature two major proprietary technologies, namely the ADSDS super-hard panel technology and BV3 technology, which achieve wide viewing angles and ultralow power consumption while ensuring the 8K high-definition display. BOE's 8K products also employ the mature High Dynamic Range (HDR) display technology which can realize millions super contrast, and greatly increase the technology and product competitiveness.
In terms of 8K display, BOE has been at the forefront in the world. It launched the 98-inch 8K UHD panel, which was a world debut, as early as in 2013. It delivered products successively in 2014, and worked with the NHK multi-media companies to carry out more than 30 tours of 8K photography and play demonstration across Japan. In the 2016 Rio Olympic Games, BOE's 98-inch 8K UHD televisions made the world's first 8K global live broadcast possible in Brazil's Museum of Tomorrow. In 2017, it supplied its 65-inch 8K screens to a number of end customers, with its delivery scale taking initial shape. In 2018, BOE's Gen 10.5 TFT-LCD production line in Hefei, which is the world's first highest-generation line, will be put into operation, and then a whole series of 8K UHD display products in full size will be largely delivered, initiating a new era of large-size UHD display.
With the strong capability in technological innovation, BOE's super-sized UHD display products, such as 8K and 10K UHD panels, have won SID "Best In Show", "IFA Technology Innovation Award", and CEATEC "Lifestyle Innovative Product Award" for a number of times, and are popular among many customers.
Meanwhile, BOE also deepened its vertical and horizontal alliance with upstream and downstream enterprises, further cooperated with them in terms of video source production, universal type players, 8K-display-based B2B and B2C systems etc., demonstrated the huge potential of the 8K UHD industry chain which covers shooting, transmission, edition, video sources and display, and jointly built the 8K UHD industrial ecology.